Trade Applicators Kit – Anti Slip Tile and Floor Treatment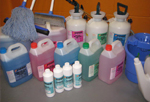 Product Description
Want to do your own professional job? Get the whole kit!
The Trade Applicators Kit includes:
50 square metres of anti slip floor treatment.
20 and 5 litres of Commercial Grade Maintenance Cleaner.
20 and 5 litres of Domestic Grade Maintenance Cleaner.
4 x SlipSolver ShowerSafe.
3 commercial application spray pumps.
1 each x broom, mop, bucket and watering can.
Instructions.